Instagram Carousel
An Instagram carousel featuring topics the online show would cover throughout the 10 hours. Show promotion launched with this branding. The illustration on the main IG post was the original inspiration used. This is one of my favorite show brandings I have ever developed.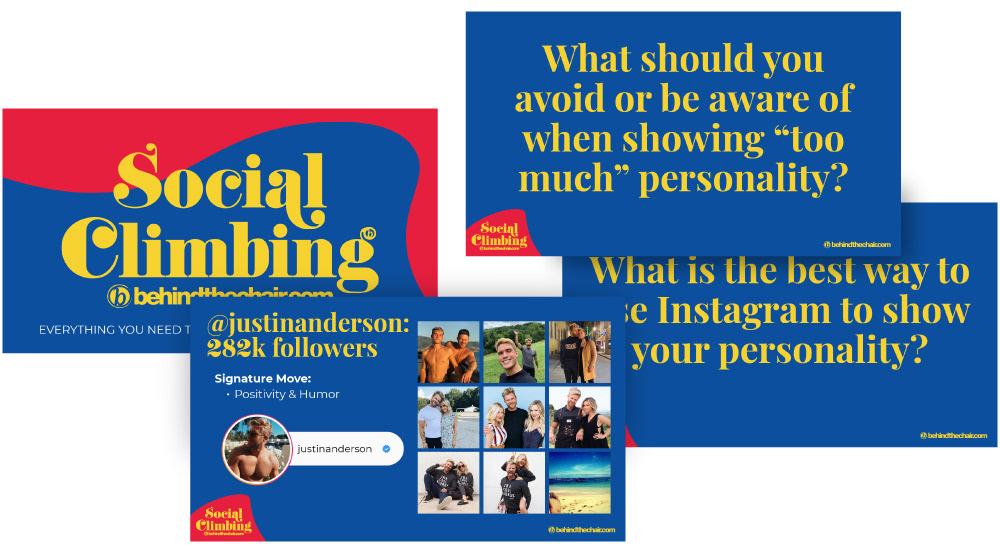 Powerpoint Presentation

10 segments of the show required slide decks, ranging from 12 to 80 slides. I, along with one other designer, worked closely with multiple departments to gather the detailed information & images needed; followed by working with the copy editors to proofread and edit copy. This project had a 3-day turnaround.
Downloadable Workbook

A 49-page workbook was provided via download (pdf) to all virtual attendees to fill out during the 10-hour show. The pdf was interactive—allowing all fields to be filled out on a computer (but many of our attendees opted to print the whole thing out! This was very cool to see!)
View the entire workbook

here

.
Attendee Product Box

Each virtual attendee received a "homework" box full of product from the sponsors of Social Climbing. This was sent out after the show aired. I worked with multiple departments on this project—ranging from our warehouse to outside vendors as well.
Product/Giveaway Booklet
A booklet was included with the product box. Each sponsor had one page dedicated to their featured product(s) & prize giveaway. The page had to include a headline, short description, inspirational hair photo, hashtags & a list of product names. When designing this booklet, I had to keep in mind the product size differences, varying lengths of copy & hashtag amount. 
I worked closely with copy editors to refine call-to-actions & body copy, keeping in mind the voice of each client.
View the entire booklet

here

.